/ Client
Port of Strasbourg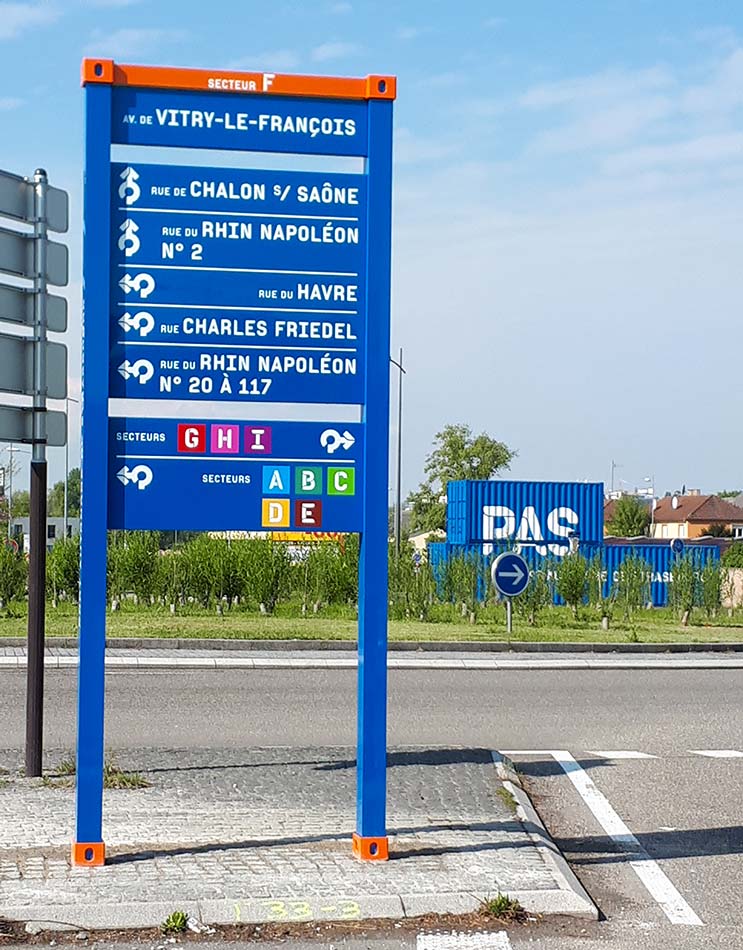 As part of a wider initiative aimed at improving public spaces, the Independent Port of Strasbourg entirely renovated the signage there in order to design Local Information Signs within the port area.
To make it easier to get around
A key gateway linking France and Germany, the vast nature of the Independent Port of Strasbourg made this a complex undertaking.
Deploying bespoke signage needed to meet two objectives: to make it easier to get around in the port area using continuous markers and to enhance the image of the port and the city itself.
A strong visual identity
Creating bespoke signage is key to the collective identity of the port community. What's more, it will be of benefit to the 320 businesses based there.
The port's image is enhanced thanks to a renowned visual identity, with a range of colours, shapes and materials. It also makes it easier for people to get around.
What's more, the coding system, using letters and colours for different areas of the port, allows visitors to be guided from the entrance of the port right through to their final destination.
Expertise
As part of this bespoke signage project, our design office put together the technical plans. They then made the necessary calculations and developed the "ready for printing" slips. The phases for manufacturing and assembling the furniture then took place at our production factory in Bellefontaine (France). To finish, our Colmar agency was tasked with implementing the required civil engineering, while our Mâcon agency installed the furniture on-site.
Key figures
236 Single-mast address signs
84 Single-mast direction signs
59 Bi-mast signs